We have something new...
How would you feel about a new, improved BCAA product?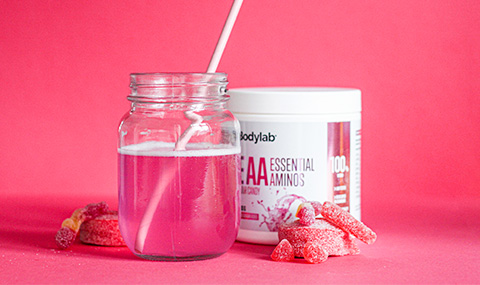 We are proud to offer a brand new, innovative product for anyone looking to increase muscle mass. We have created a highly concentrated amino acid supplement that contains all 9 amino acids. It is easily and quickly absorbed by the muscles. We're not calling it a sensation, but it's something very similar.
Choose from one of the refreshing flavours:
- Cola and lemon
- Sweet peach
- Sour candy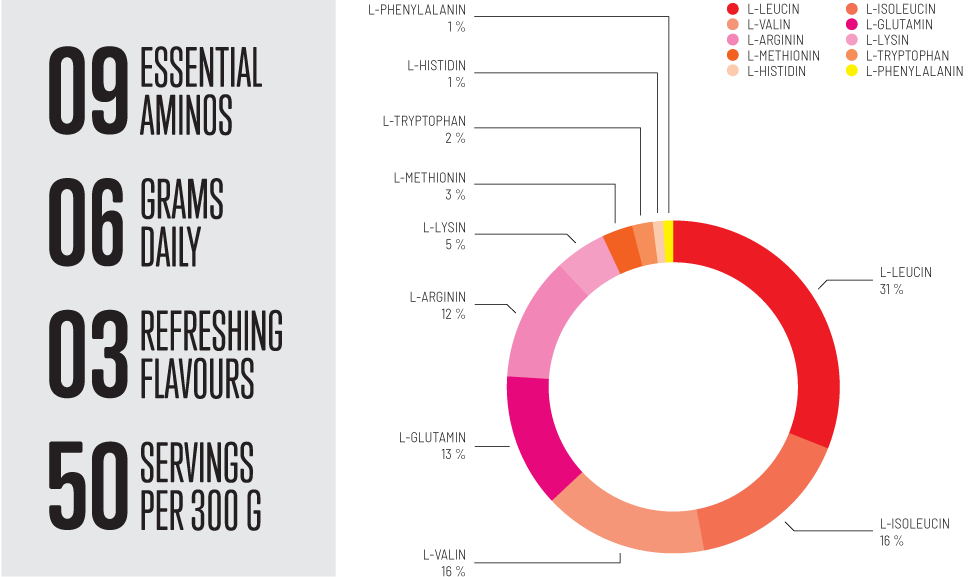 Our EAA is sugar-free and will make a great refreshing drink before, during and after your workout. What's more, it's vegan and gluten-free. Well, of course!

And what's the science behind it?
This is probably going to get a bit technical, but let's try not to complicate things.

Why use EAAs instead of pure protein? When taking EAAs, the body doesn't have to break down the protein before the amino acids can be taken up by the muscles. Some amino acids can be produced by the body, while others have to be taken in through the diet. These are essential amino acids and they are present in our EAAs. Unlike similar supplements, EAAs contain all 9 essential amino acids, which will allow a complete and concentrated amino acid product.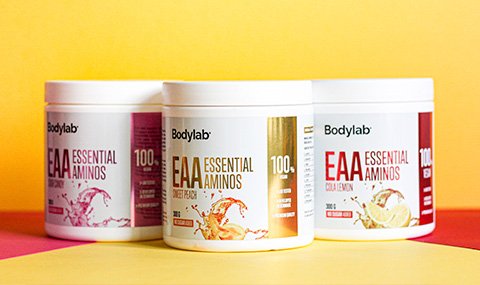 One can contains 300 g of EAA (50 servings).
Nutrition
Nutrition
1 portion (6

g)

L-Leucine
1300 mg
L-Lysine
195 mg
L-Isoleucine
650 mg
L-Valine
650 mg
L-Arginine
340 mg
L-Phenylalanine
50 mg
DL-Methionine
125 mg
L-Histidine
56 mg
L-Glutamine
550 mg
L-Tryptophan
100 mg
Ingredients
Amino acids: L-leucine, l-valine, l-isoleucine, l-glutamine, l-arginine, l-lysine, l-methionine, l-tryptophan, l-histidine, l-phenylalanine, inulin, acidity regulator (malic acid, potassium citrate), flavours, anti-caking agents (silica/silica), sweeteners (sucralose, acesulfame-K), caramel colour.
Use
Mix one scoop (6 g) with 300 ml of water.
Delivery method

Country

Cost

Delivery Time

Omniva parcel terminals

Latvia

€2,00

Up to 3 working days

Lithuania

€2,50

Up to 4 working days

Estonia

€2,50

Up to 4 working days

DPD Pickup points

Latvia

€2,50

Up to 3 working days

Lithuania

€2,00

Up to 4 working days

Estonia

€2,50

Up to 4 working days

Venipak Pickup points

Latvia

€2,00

Up to 3 working days

Lithuania

€3,00

Up to 4 working days

Estonia

€3,00

Up to 4 working days

Venipak - contactless courier delivery

Latvia

€2,00

Up to 2 working days

Lithuania

€2,00

Up to 2 working days

Estonia

€2,00

Up to 3 working days

FREQUENTLY ASKED QUESTIONS
How soon will I receive my order?
After receiving your payment, we will send the order on the same or next business day.
Usually delivery with Omniva parcel terminal takes up to 2 working days. Venipak, in turn, delivers orders the next business day after receiving them from our warehouse.
How can I get free shipping?
If the amount of your order is over € 29 (VAT included), we will deliver the order free of charge, regardless of the type of delivery you have chosen.
How can I track my order?
You will receive an order dispatch confirmation e-mail with the order tracking number and a link to view this information.
If you want to follow the shipment, please come to us on the order tracking page and enter the order tracking number you received in the email.
Where can I find a list of current Omniva parcel machines?
Please visit Omniva homepage, where you will be able to find all parcel terminals to which we can deliver orders in Latvia, Lithuania and Estonia.
Will the courier contact me before arrival?
Yes, before the order is delivered, the courier will contact you by the phone number you provided in your profile.
I received damaged / incorrect goods. What should I do in this situation?
In these rare cases, please contact us by email or phone and we will make sure the situation is resolved as soon as possible.
Please also visit Return page for general information.
MakeCommerce - VISA / MasterCard / Maestro, Swedbank, Luminor-Nordea, Citadele (instant processing)
Paysera - Swedbank, SEB, Luminor-Nordea, Citadele (instant processing)
PayPal (instant processing)
Bank Transfer (up to one business day)
If the bank transfer is your chosen method of payment, then you will receive a proforma-invoice immediately after placing the order with the correct amount and VAT, as well as instructions. Don't forget to mention your order order ID - this will make order processing faster.
Company name: SIA PRO
VAT number: LV40203007249
Account number: LV58PARX0020962040003
Bank name: JSC "Citadele banka"
We will place an order as soon as we receive the money in our account, but you can also send us a screenshot or other proof of sending the money to our account. Send it to info@vitamins.lv.
Remember that a bank transfer may take 1-2 business days. As soon as it is confirmed, your order status will change to "paid".
Promo and discount codes do not work with promotional items and items displayed at a reduced price. Gift cards can always be used.